Having launched its new and advanced web platform in October 2014, Rbinary can be considered as a relative newcomer in the world of online retail binary options trading. This broker promises traders and investors alike, "a gateway into a world of exciting trading strategies and gains." The people behind Rbinary claim to have designed their vision around the most important needs of traders, thus providing them with simple features, expert advice and most of all, exciting trades and high pay outs. Let us have a closer look at the offering of this binary options brokers to help you discern whether it delivers on its claims and promises:

To take advantage of our exclusive bonus, simply open an account on rbinary.com by clicking on the link above. Our bonus offer will be automatically acquired.
Open Real Account Free Demo Account
The platform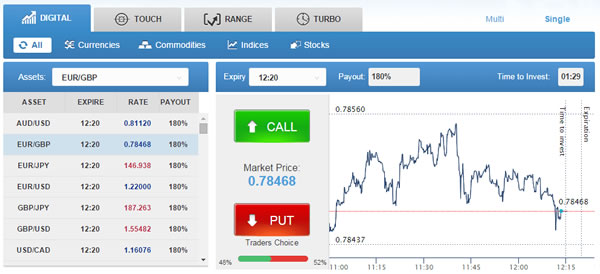 When designing the proprietary version of the web-based platform they are using, Rbinary paid particular attention into making it truly user-friendly and able to be used effectively and efficiently by traders of all skill and expertise levels. They have ventured well in this front and their trading platform is indeed very responsive as well as easy to navigate. The platform is loaded with additional features and various pro tools, which however are only accessible to registered VIP users of the trading platform. Moreover, clients choosing to trade via Rbinary, can take advantage of its social trading feature, since they have access to the top trades made by other traders for each asset and for each specific trading type, enabling them to learn from others and even copy what are proven winning strategies. Moreover, the trading experience on the platform is further aided and enhanced through the use of helpful and colorful charts showing the performance of each asset. Besides their online platform, Rbinary have also recently launched a special mobile application, suited both for most types of mobile devices, to meet the needs of traders who wish to trade on the go.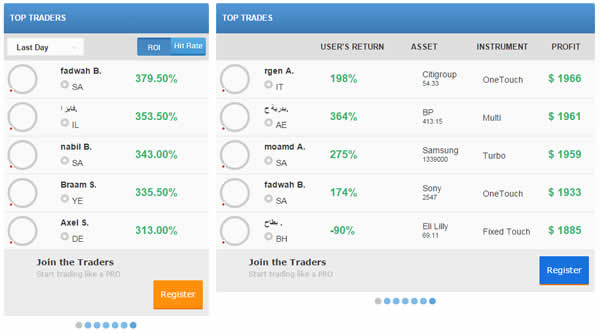 Types of trading
Besides the traditional call/put digital type of binary options trading type, the Rbinary platform allows traders to choose to trade other types as well, such as the Touch, Range and Turbo binary options trading types. These come with a different and varied range of expiry times and payout percentages, meaning that all traders will be able to find a trading type to suit their needs, expectations and skill levels as well as their risk capability and tolerance. The Turbo Option type of trading for example, is a high speed alternative, with an expiration of between one and 3 minutes, which may result in almost instant returns and profits, but it comes with a higher risk attached and it is therefore best suited for experienced investors who are already well familiar with binary option trading.
Asset list
Rbinary gives traders a truly wide range of tradable assets to choose from, since its clients can place trades on the price of assets ranging from across all the four categories of assets, i.e. forex currency pairs, stocks, indices and commodities including the precious metals of gold and platinum. All customers, both debutants and more seasoned traders are bound to find an asset or a combination of assets to best match their investment portfolio needs as well as their trading skill levels. The forex currency offering is quite extensive and includes not only the usual, popular pairs but also more innovative ones, such as the Bitcoin/USD pair. The assets offered under the indices and stocks categories are equally extensive and adequate, covering the world-wide markets.
Account types
Similar to many other binary options brokers, Rbinary offers aspiring traders the opportunity to set up a demo account for free in order to practice their binary options trading skills. Traders who decide to open a live, funded account with this firm can choose between four different account types, depending on the initial deposit amount they are willing to commit. More specifically, Rbinary offers the Silver or standard account, the Gold or Power Trader account, the Platinum or Professional Trader account and finally the VIP or Premium Membership account. Besides having different minimum deposit requirements, which increase as you move up the ladder, each of these account types comes with different maximum position and total maximum position levels. Moreover, each account type offers its holder monthly cash backs, where in essence the account holder receives a proportion of cash back, according to the amount deposited and the minimum monthly volume generated.
Deposits and Withdrawals
Deposits and withdrawals at Rbinary are conducted in the usual methods accepted in the online retail binary options industry and include most major credit cards, such as Visa, American Express and MasterCard, as well as the traditional method of bank wires and the more innovative online electronic payment methods, such as Neteller and Union Pay. The minimum deposit requirement is set at a very reasonable $250, while the minimum withdrawal amount from any type of account is $100. Rbinary claims that all withdrawals are executed within three business days after a relevant request is made.
Customer Support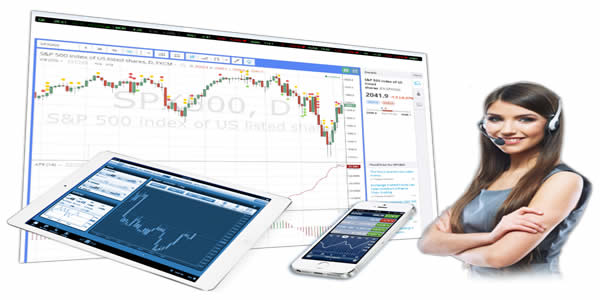 The RBinary website is currently available in four languages, namely English, Arabic, Russian and German, meaning that it caters for the needs for a great number of binary options traders across the globe wishing to be able to trade in their native language. Customer support is offered on a 24/7 basis and the Rbinary team can be contacted either via live chat online, through email or on the phone to one of the three local numbers available in the UK, Bahrain and Russia. Rbinary customers can also make full use of the broker's training academy which has a rich and useful content in the form of specific binary options calculators, an economic calendar and very informative training online training courses. All registered account holders gain access to the Rbinary e-book, while the courses offered for registered users range from the basic and fundamental for new traders to the more advanced and in depth analysis of issues, strategies and topics, most suitable for seasoned traders.
Conclusion
Rbinary is not currently regulated in any jurisdiction as a binary options broker and this is perhaps an obvious downside. However, regulation for this firm may well come some time soon, while the people behind this entity bring with them a considerable amount of accumulated experience in the field and appear to mean "serious business". Moreover, Rbinary, besides a reliable and well structured platform, also offers an array of additional, innovative and helpful features that greatly enhance one's trading experience, coupled with high quality customer support and customer training opportunities. It does therefore pose as an attractive alternative for binary options traders, especially those who are already familiar with this investment vehicle, since it provides a good venue for their trading activities.
Open Real Account Free Demo Account