Binarybook is a broker offering retail binary options services online from its UK base to all traders across the globe, including US customers, which is one of its advantages. This broker has an attractive website and a very wide variety of account as well as trading types for traders to choose from. Moreover, it is packed with additional features and promises an overall trading experience of high quality coupled with increased returns possibilities. It was launched in 2014 and ever since it has been striving to occupy a prominent position in this booming industry. Let us have a closer look at the offering of Binarybook to help interested existing or aspiring traders to shape an informed opinion on this promising broker and discern if they deserve to become their broker of choice:



To take advantage of our exclusive bonus, simply open an account on binarybook.com by clicking on the link above. Our bonus offer will be automatically acquired.
Open Real Account Exclusive Free Bonus
The platform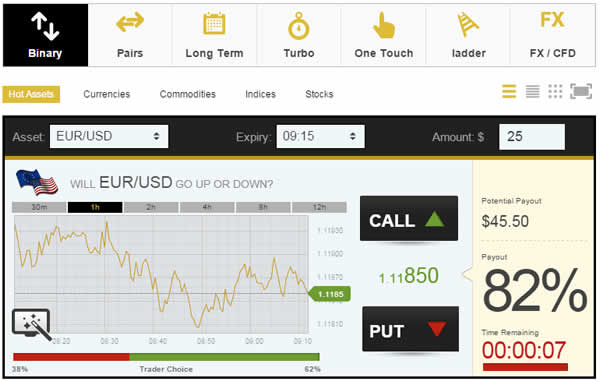 The platform used by Binarybook employs cutting edge technology in an attractive setting that places particular emphasis on simplicity of use and user friendliness, providing traders with a trading environment which is conducive to success. Another strong point of the platform is the fact that it is packed with additional features and tools for traders to use, including a dedicated Trend Analyzer that rids traders of having to place random trades and instead allows them to conduct their trading transactions based on sophisticated technical tools, such as the Relative Strength Index indicator, Bollinger Bands and Simple Moving Average. Moreover, traders who wish to trade on the go are particularly cared for by Binarybook since they can download and use the dedicated mobile device application which enables them to easily and securely trade from anywhere at anytime. The application also allows the seamless synchronization with one's computer-based account, while the mobile trading can be conducted in multiple languages, namely in English, Arabic and Turkish.
Types of trading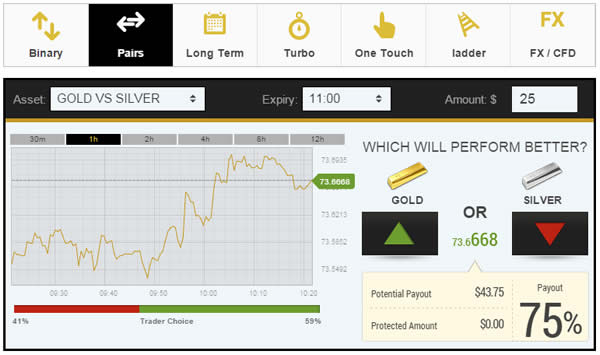 When it comes to the types of trading on offer, Binarybook compares very favourably with the competition in the industry and literally has traders spoilt for choice. Besides offering the traditional call/put type of binary options trading, the broker also offers one the opportunity to trade Turbo or speed trading with expiry times as short as 30 seconds. Moreover, you can choose the Pairs trading type, placing two assets against each other, or the more innovative Ladder trading type which is slightly more complicated, but it offers exceptional payouts at multiple levels. Furthermore, by putting at the disposal of traders another two useful tools, Binarybook manages to enhance the trading experience and maximize the success chances for traders. These are the double-up feature, which enables you to double your investment amount and gain profits with your open positions and the Rollover tool, which enables you to prolong your expiry time in order for you to meet your set target, also helping to minimize any losses if used strategically.
Asset list

The tradable assets offering that Binarybook puts at the disposal of traders is rather comprehensive and can cater for the diverse needs and preferences of traders of all experience levels. Customers of Binarybook can choose to trade assets from across the four main asset categories, namely forex currency pairs, stocks, commodities and indices. More specifically, there are 12 different currency pairs open for trading and trading them through binary options makes them much easier than traditional forex trading. Moreover, you can choose to trade on one or several of the 19 different stocks of well-known companies that are on offer, to trade on one of the 20 of the world's most strong indices that are also available. Finally, traders, especially the most novice ones, might consider to start their trading experience through on one of the seven commodities that Binarybooks puts at their disposal, these being gold, silver, platinum, light sweet crude oil, coffee, wheat and sugar.
Account types
All traders, irrespective of their experience level and the amount they have at their disposal to trade with will definitely be able to find the right account type to open with Binarybook, since the broker has five different account types to choose from. Prior to listing these we should highlight the fact that an added feature of Binarybook is that it also offers Islamic Trading accounts, fully compliant with Sharia law without any commissions and interests, thus allowing Muslim traders to trade binary options without breaching the rules of their religious faith.
All the available account types grant their holders complete access to BinaryBook's highly-secured platform as well as to the training materials offered by the broker. Moreover, all account holders get access to a personal account manager to support them when needed and also become eligible to receive additional promotional incentives, ranging up to 75% per deposit.
The first account type available is the Micro Account, which is especially suitable for the less experienced traders, since it only requires an initial deposit of $250 deposit and also comes with a free 20% welcome bonus. The second account type one could get is the Basic Account and it can be opened with an initial deposit of $500. The additional benefits of this account type is a free 50% welcome bonus, one risk-free trade and one month of free Basic Trading Signals, which is worth $200. More advanced traders may be interested in the Gold account type, which has an initial deposit requirement of $5,000, while also offering a free 75% welcome bonus, two risk-free trades and one month of free Gold Trading Signals , which is worth $500. The fourth account type offered by BinaryBook is the Platinum Account and it requires an initial deposit of $10,000. Geared more towards high-volume traders seeking a heightened trading experience, this account type comes with a 100% welcome bonus in addition to five risk-free trades and two months of free Platinum Trading Signals, which are worth $1,000.
The final and most exclusive account type that one could open is the VIP account that requires an initial deposit of $50,000 or more, but comes with an array of additional benefits, discounts and perks tailored for the needs of serious, expert traders.
Deposits and withdrawals
Depositing as well as withdrawing funds to and from your account with Binarybook can be done in an easy and hassle free manner, without compromising your security and the reliability of the process. BinaryBook accepts a wide range of deposit methods, including most credit and debit cards such as Visa, Delta, MasterCard, Diners, Visa Electron, Maestro, Maestro UK (Switch) and Solo, as well as bank transfers and the e-wallet services of Neteller, cashU, Webmoney and UnionPay. The minimum withdrawal amount allowed is $100 and although there is no maximum amount set, it is pointed out that your withdrawal requests should be aligned with BinaryBook's terms and conditions, matching your trading volume. In any case, the broker claims to be processing all withdrawal requests in a very timely and secure manner and also places particular emphasis on the security of client funds.
Customer support
The Binarybook website is available in English, Arabic and Turkish catering for the trading needs of a multitude of traders and revealing the client base that the broker focuses on. Customer support is available in these three languages as well and customers can reach out to the broker for any queries they may have or any assistance technical or otherwise they may require. An extensive FAQ section covers most topics, but all customers can also contact the customer support department on a 24/7 basis via live chat, email or phone through 3 local numbers in the UK, Bahrain and the USA.
Binarybook places particular importance on the correct education of traders to enable them to increase their understanding of binary options trading and the markets and help them improve their skills and through them their profits. Therefore, it offers a useful and information-packed "Trading Camp", where all traders, from absolute beginners to professionals, can gain access to videos, e-books and other materials as well as request the assistance of an expert trader.
Conclusion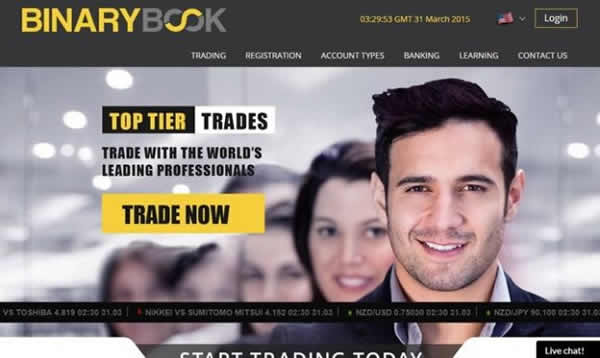 In a nutshell, the overall overview of the offering by Binarybook is little short from impressive. The obvious downside of this broker is the fact that it is not yet regulated by a pertinent authority in any jurisdiction and this could perhaps put off some traders, especially those who are less experienced. However, perhaps this will be redressed in time as the broker consolidates its position in the market even further. Whatever the case, we could argue that all traders, but especially the more experienced and seasoned ones would undoubtedly find the many account and trading types available very appealing and will also be able to see the added benefit and increased potential offered by the additional features as well as the generous bonuses and payouts offered by Binarybook and decide to make them their preferred binary options broker. Binarybook rewards the loyalty of its customers though generous bonus schemes, while it also offers up to $100 as a cash bonus for those of its clients who take advantage of its Refer a Friend program and convince their friends to open a trading account as well.
Open Real Account Exclusive Free Bonus