Today our focus turns on another dynamic entry in the world of online, retail binary options, a broker operating under the name Zoomtrader. This broker conjures up what appears at first sight to be a typical offering, similar to that provided by most of its competitors. However, it comes across as a serious venture which places significant importance on two fields, first the safety and integrity of client accounts and the security of their funds, and second, the provision of quality training and other resources in order to ensure that literally everyone can understand how things work and be able to trade binary options easily and conveniently. A closer look at Zoomtrader will help us reach a verdict whether this broker is worth our while. So, here we go:

To take advantage of our exclusive bonus, simply open an account on ZoomTrader.com by clicking on the link above. Our bonus offer will be automatically acquired.
Open Real Account Free Demo Account
The platform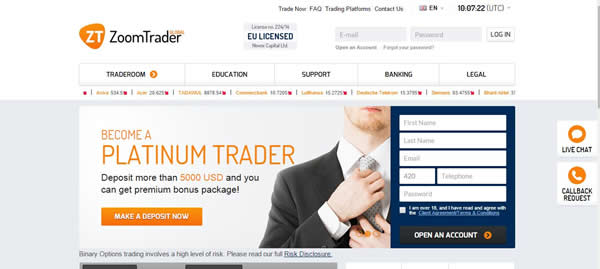 Being completely web-based the platform used by Zoomtrader requires no downloads and it therefore provides instant access to a trading environment that is easy, safe and secure for everyone interested in trading binary options. The broker is particularly proud of the way its platform was designed and how it actually works, highlighting the extremely intuitive qualities that it has and also pointing to the fact that all tools and screens are carefully arranged and designed in a clear, clutter-free and user-friendly manner, ensuring that nothing distracts the trader from focusing 100% on his/her trade. Moreover, the trading experience itself is enhanced by the various types of trading available and the fact that several tools, such as money management features or tools allowing the earlier closure or extension of each particular trade, are offered to all clients in order to help them maximize their chances of placing a profitable trade. Furthermore and in order to also satisfy those traders who prefer to trade on the go via their mobile devices, Zoomtrader has also developed a special application that is available via the App Store and Google play, to enable traders to trade at anytime and anywhere they wish.
Types of trading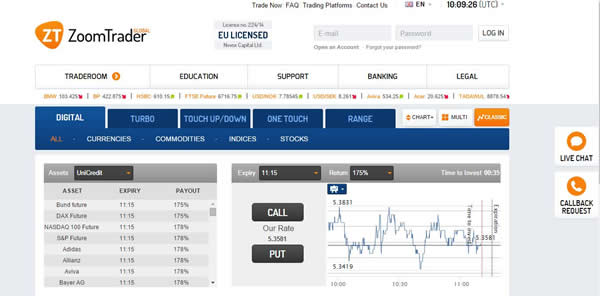 In order to respond to the differing needs and requirements as well as investment profiles of binary options traders, both novice and the more seasoned ones, Zoomtrader has available several different types of trading, offering different payout levels. Besides the traditional call/put digital binary options trading, this broker also offers touch options, where the price of an asset doesn't have to only touch the pre-set limit, since a trade is profitable even if the limit is surpassed. Moreover, Range options are available, where one doesn't have to predict the direction of a price but rather whether it will remain within a specific range. One-touch options and turbo options are the other two trading types available, with the latter being especially suitable for those who have little time and patience and would like to reach profit (or loss) within just 60 seconds.
Asset list
The tradable assets offering at Zoomtrader is admittedly not as impressive as other competitors out there, but it is still sufficient to allow traders enough choice, since it includes all the basic assets across the four asset categories. More specifically the traders on the Zoomtrader platforms can choose to trade on 6 different commodities, namely coffee, copper, crude oil, gold, silver and sugar, 12 different forex currency pairs, including all the popular pairings of the USD, the EUR and the GPB, 10 different indices from across the globe and, finally, 37 different stocks from well known companies, in the asset categories which offers the most extensive choice. Perhaps lacking a bit in comparison to what is nowadays usually on offer, it is hoped that while the broker consolidates its presence in the market, its tradable assets menu will grow and expand further in the near future.
Account types
Depending on the amount that they are willing to commit as their initial deposit, Zoomtrader has four different account types for traders to choose from, each offering a different set of perks and advantages, which increase proportionally as the initial investment amount goes up. The Bronze account type is offered to those willing to deposit between $500 and $1999 and it gets them access to an introductory video course, weekly market reviews and a free trading strategy. Those willing to commit between $2000 and $4999 can get a Silver account, which also offers, inter alia, daily market reviews and weekly webinars. Depositing between $5000 and $19999 will get you a Gold account, which offers its holders not only increased access to training and resources, but also a dedicated account manager, free trading signals, higher payouts and same day withdrawals. The set of offerings and perks is even more exclusive for those who are willing to commit more than $20000 as their initial deposit amount and thus become holders of the VIP Platinum account type.
Deposits and withdrawals
Zoomtrader aims to keep the deposit and withdrawal procedures fast, smooth and simple as possible. Deposits as well as withdrawals are accepted via credit card, bank wire are a variety of other payment methods which are country specific, such as for example via Boleto if a client is in Brazil, or via iDEAL if one is in the Netherlands. These local payment solutions are very convenient especially for those who do not have access to a Visa or Mastercard and who wish to avoid using a bank wire, that usually takes longer to process and comes at a higher fee being charged by the banking institution.
Customer Support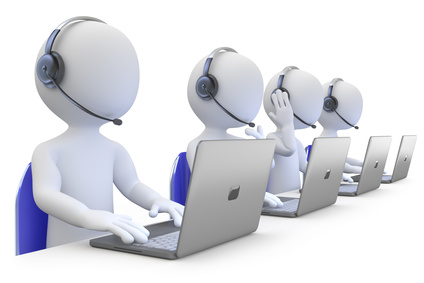 The Zoomtrader website is truly multilingual and reaches out to a very big proportion of prospective binary options traders worldwide, since it is available in English, German, Dutch, Portuguese and Chinese. Besides having an FAQ section answering the basic queries one may have with regard to trading, the broker's customer support team can be easily reached to offer its assistance either directly from the website via live chat, or through email or by phone at one of the 13 different local calling numbers available, which are located in the UK, Germany, Spain, Turkey, Italy, Canada, Brazil, the Netherlands, Russia, Poland, France, China and Australia. Placing particular emphasis on enabling literally everyone to be able to trade binary options and do so successfully, Zoomtrader has compiled and put at the disposal of its clients are very comprehensive education center that is packed with very useful material in the form of an e-book, dedicated webinars and other interactive training methods, containing analysis, strategies and much more, suitable for only for the rookies but for the more advanced traders as well.
Conclusion
It is extremely important for any investor/trader to choose a binary options platform whose activities are monitored by a regulatory agency with the goal of keeping the business honest. Since Zoomtrader is fully regulated in the European Union means you are protected if there is any kind of dispute. We did not find any issues, possible scams or complaints about ZoomTrader's services. It appears to be offering a friendly and straight-forward environment for clients to trade in. It is thought that in time, this broker will further enhance its offering, but it is still a fairly solid and good option that perhaps merits the chance to become your preferred broker.
Open Real Account Free Demo Account