Perhaps in an intended pun, the name of the new entrant in the retail binary options scene that we will review today is instantly revealing its aspiration: Tradarea aims to become the area where every smart binary options trade chooses to do their trading! Building on its past experience in the Asian market, the broker has acquired an EU license by CySEC and powered by the innovative Hello Markets platform it is gearing to become a dominant presence in the fiercely competitive retail binary options world, offering, inter alia, discretionary bonuses to both new and recurrent customers. An interesting new broker that shows exemplary enthusiasm and has the added benefit of being regulated, so maybe they are just what you are looking for. Therefore, read on to find out more:

To take advantage of our exclusive bonus, simply open an account on Tradarea.com by clicking on the link above. Our bonus offer will be automatically acquired.
Open Real Account Free Demo Account
The platform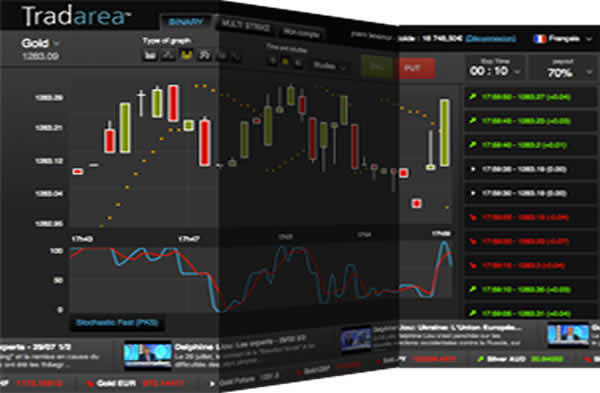 Being completely web-based the platform used by Tradarea requires no downloads thus instantly providing access to a trading environment that is easy to understand and navigate through as well as safe and secure for everyone interested in trading binary options, especially the more inexperienced traders. Using the newly established Hello Markets platform, as very few other brokers, the propertiary platform in Tradarea is a welcome change from the ordinary offering we have become accustomed to from other established platform providers and it does offer a trading experience that is of high quality since it is packed with cutting edge, innovative and fresh features. Such features and tools which greatly enhance the trading  of all users are the 6 different types of graphs over three different time frames (15 mins, 30 mins, 60 mins), 13 different indicators, trading signals, social trading, trading robots, an updated economic calendar, a video news feed (powered by Bloomberg), as well as ticker  and even a built-in email feature. Furthermore, and in order to also satisfy those traders who prefer to trade on the go via their mobile devices, Tradarea also has available a special application for smartphones, to enable traders to trade at anytime and from anywhere they wish.
Types of trading
In order to respond to the differing needs and requirements as well as investment profiles of binary options traders, both the rookies and the more experienced ones novice and the more seasoned ones, Tradarea does not only offer the classic high/low type of binary options trading, but also several other types each offering different payout levels and having varying expiration times.  Clients can choose to trade either through 60 seconds, Long Term or One Touch binary options or they can select the Option Builder trading type, which allows the full customization of one's payout plan. The expiry times on offer range from 60 seconds to one hour, while payouts typically reach 90% on all trading types besides the riskier One Touch type which could potentially give a payout of 600%.
Asset list
The tradable assets offering at Tradarea is quite impressive and it is bound to satisfy the needs and preferences of even the most demanding trader. Traders are literally spoiled for choice with nearly 200 assets across the four asset categories to choose from. More specifically, the traders on the Tradarea platforms can choose to trade on 64 different commodities, 69 different forex currency pairs, including all the popular pairings of the USD, the EUR and the GPB, 15 different indices from across the globe and, finally, 62 different stocks from well known companies.
Account types
Depending on the amount that they are willing to commit as their initial deposit, Tradarea has four different account types for traders to choose from, each offering a different set of perks and advantages, which increase proportionally as the initial investment amount goes up. The Standard account type is offered to those depositing a minimum of $200 and it gets them eligible for a 25% welcome bonus. Those willing to commit more than $1000 can get a Silver account, for which the welcome bonus rises to 50. Depositing between $5000 and $9999 will get you a Gold account and a welcome bonus of 100%, while more than $10000 makes you a Platinum account holder with the same 100% welcome bonus but also with totally free withdrawals and an array of other exclusive offerings. Holders of all account types get a free demo account upon registration, while they all gain access to the Tradarea academy. Moreover, even those account holders that don't get these in their package of perks can request either custom training programs by dedicated account managers or even personal 1-on-1 trading sessions.
Deposits and withdrawals
Tradarea aims to keep the deposit and withdrawal procedures as simple and fast as possible and claims to be the only trading platform that allows you to withdraw your money within 48 hours without exception so that you can bank and access the profits you have generated.
The accepted banking methods for both deposits and withdrawals are all major credit cards, including Visa and Mastercard, the more traditional method of a bank transfer in either dollars or euros and the more innovative e-payment services of CashU and Neteller. The withdrawal fee depends on the account type one holds and it ranges from a 3.5% on each withdrawal for standard accounts to completely free of charge for Platinum accounts. However, note that in order to finalise your deposit or withdrawal requests, as well as fully claim the Trading Bonuses that Tradarea offers customers need to download, print, fill in, sign and send back to their Tradarea representative a set of documents as per the requirements of the broker's regulator.
Customer Support

The Tradarea website still appears to be in its initial stages and it is currently only available in English, French and Spanish, but these three languages are widely used in Europe and the whole world so most traders shouldn't have a problem trading in a language they are familiar with. From the Tradarea Academy menu customers can access the FAQ section which contains the answers to the basic queries one may have with regard to trading. However, for any other questions or in case something is not clear, clients can contact broker's customer support team which is readily available to offer its assistance, since one of the broker's mottos is having client satisfaction as their number one concern and they aim to serve all clients timely and efficiently. Help is available on a 24/5, except weekends and it can be easily reached either directly from the website via live chat, or through email or by phone at local numbers in Cyprus and the UK. Besides the FAQs, the Academy section also contains a very useful and illuminating glossary while we also expect that other materials such as e-books and e-seminars will shortly be added since reference to them is already made elsewhere on the site.
Conclusion
On binaryoptionswire.com we have repeatedly stressed the importance of choosing to trade with binary options brokers which are fully regulated in reliable jurisdictions because this ensures that your trading is done in an environment that is transparent and safe. Being regulated by CySEC therefore gives Tradarea the right to boast that it deserves your confidence. Moreover, although a newcomer on the European retail binary options scene, the company does have the necessary experience from their previous operation in Asia, in order to provide a high level of investment services to its clients. And despite the fact that their website is being built gradually and it is thus lacking in some areas still, such as multiple languages being supported or a great content in their training academy, they seem to have the commitment, zeal and enthusiasm needed to excel over time and are extremely accessible and friendly to rookie traders. So, give them a try to see for yourself if Tradarea is indeed the right binary options broker for you!
Open Real Account Free Demo Account