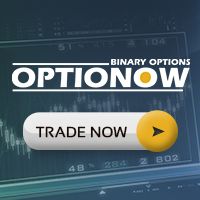 Optionow is an online binary options website operated by EQ Sky Capital Services, a company incorporated in the Territory of Gibraltar. The broker claims that its team is made up of a seasoned group of professionals, specializing in the fields of financial options, commodities, derivatives, stocks, forex trading, online marketing, software research and development and that this enables them to focus on fast, profitable and easy trading. Let us have a closer look at this promising broker to discern whether these claims are true:

To take advantage of our exclusive bonus, simply open an account on optionow.com by clicking on the link above. Our bonus offer will be automatically acquired.
Open Real Account Free Demo Account
The platform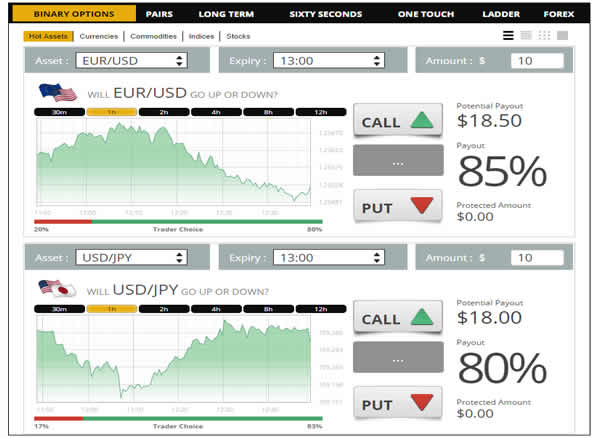 The platform used by Optionow is completely web-based and requires no downloads and it was built with the intention of providing customers with an honest and professional environment to trade in, based on the principle of integrity for which the broker is proud of. Indeed, the trading platform is of good quality and very user friendly, so that traders with little experience can also use it with relevant ease and confidence. Moreover, Optionow has also developed a special application for mobile devices, such as smartphones and tablets, through which traders can also trade on the go, at anytime and from any place. A very interesting and contemporary feature of the Optionow platform is that enables social trading through the use of Spot follow, enabling all its customers to "learn from the best traders" since they can chose to follow, study and even copy the trades placed by successful, seasoned traders and thus become equally successful.
Types of trading
Besides the traditional call/put binary options trading, the Optionow website offers clients additional trading types, enabling them to trade in the way that is best suited to their skills and aims. Long term options are available for those who don't mind waiting for longer intervals and feel more comfortable trading without the pressure of time, while on the other hand, super fast options are available in the form of 30/60 and 120 seconds trading that means almost instant profits. Moreover, riskier traders might like to trade the One Touch options trading type, which offers much more lucrative profits for a higher risk, since this is an "all or nothing" type. Finally, traders can also trade in Pairs, where instead of predicting the direction of an asset price, they predict which asset from a particular pair will outperform the other.
Asset list
The tradable assets offering at Optionow is one of the broker's greatest advantages, since it includes over 150 different assets for traders to choose from, ensuring that all clients will be able to find the asset, or asset combination that best serves their investment profile, budget and preference. The assets offered come from across all the four asset categories, i.e. forex pairs, commodities, indices and stocks. Besides the most commonly found and sought after assets, the tradable assets menu is extensive enough to be able to accommodate more innovative or exotic assets, such as Bitcoin in the Forex category, as well as the stocks of Apple, Google and Facebook in the stocks category.
Account types
Optionow has a whopping six different account types for traders to choose from. Each account type has a different minimum deposit requirement and as the amount goes up, so do the perks, privileges and provisions that each customer stands to receive for holding a specific account type. For as little as 200$ and for amounts up to 500$, one can open a MICRO account, while the STANDARD account is given to those initially depositing between 500$ and 2000$. Customers willing to commit between 2000$ and 5000$ get a Premium account, while those who are ready to invest over 5000$ but less than 10000$ can open a VIP GOLD account. The next step on the ladder is the VIP PLATINUM account type which is reserved for those clients willing to initially deposit more than 10000$, but less than 100000$. If money is no object and one is willing to open a trading account and make an initial contribution of more than 100000$, then they can have the ELITE account type which comes with a full pack of extras and additional benefits which greatly enhance one's trading experience.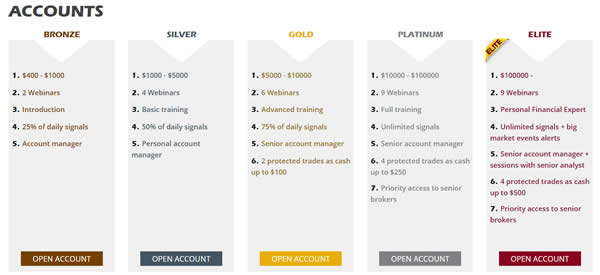 Deposits and withdrawals
The deposit and withdrawal procedures are similar to those offered by other brokers in online retails binary options field and they could be described as simple and relatively fast. The minimum deposit amount is set to $250 or its equivalent in the customer's chosen trading currency. It should be noted that the chosen currency is declared upon registration and cannot be changed afterwards. The accepted payment methods include major credit cards, such as Visa, Maestro, American Express and Mastercard, as well as Wire Transfer and Cash U. The minimum withdrawal amount is $100 or its equivalent in the customer's chosen account currency, while traders should bear in mind that all withdrawals are subject to a $35 administration fee per transaction.
Customer Support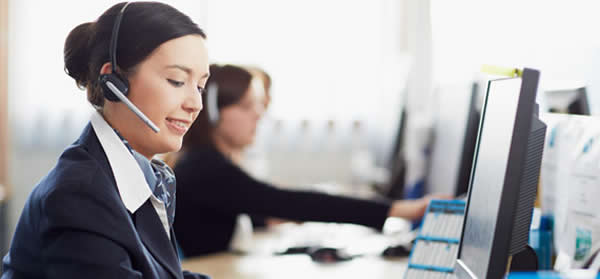 The Optionow website can be argued to cater for the needs of a significant portion of traders in the global community to be able to trade in their own language since it is available in English, Arabic and Russian, although it would perhaps be advisable if more language options were added in the future. Customers can access the comprehensive and detailed FAQs section of the website in order to seek answers to their queries, while they can also contact the broker's customer service department directly either via live chat from the website, by sending an email or by phone, at the only given number which is a UK landline phone, with customer service being available on a 24/5 basis. The broker also offers its customers an educational academy, which contains, inter alia, various informative webinars as well as other useful training resources aiming to equip customers with the necessary skills in order to successfully trade binary options through the Optionow website.
Conclusion
Optionow appears to be an interesting broker that binary options traders, both newcomers as well as seasoned ones should try out because it offers them real choice in terms of its tradable assets menu, the different account types available as well as the various trading types, meaning that each trader can tailor-make those choices that will best suit his/her own skills and needs, rendering the trading experience truly versatile and increasing the chances that it will be profitable and successful.
Open Real Account Free Demo Account