OptionBit is a binary options broker which has been around for some time and it is reputable for offering quality services to traders, as proven by the fact that in 2012 it was awarded the Best Broker award by FXEmpire. Currently, OptionBit is a brand parented by Novox Capital Ltd, which is a Cyprus based investment services firm, fully regulated and licensed by the local regulator CySEC, under license number 224/14. This renders it a broker that operates in full compliance with EU regulations thus offering superior online binary options trading experience in a safe, secure and transparent environment, which is further enhanced by innovative, as state-of-the-art trading tools and services. At first glance, Optionbit looks like a robust choice both for rookies as well as experienced binary options traders, but us have a closer look to see if this first impression is well founded.

To take advantage of our exclusive bonus, simply open an account on OptionBit.com by clicking on the link above. Our bonus offer will be automatically acquired.
Open Real Account Free Demo Account
The Platform and Trading Tools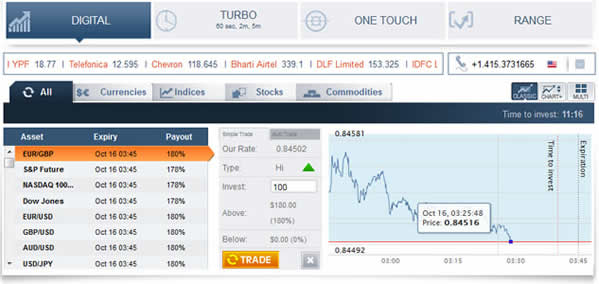 The platform used by OptionBit is based on Tradologic's latest technology and it provides the simple, user-friendly, fresh, yet dynamic and highly versatile environment that traders will find very conducive to enhancing their trading experience. Packed with features yet incredible straight forward to get the hang of, the platform is suitable for the trading needs and requirement of both the novice traders as well as the experienced professionals.
Besides their online platform, OptionBit have also developed an application for traders wishing to trade on the go, anywhere and anytime. The application provides a complete mobile trading experience and it is compatible with all iOS and Android devices, including tablets.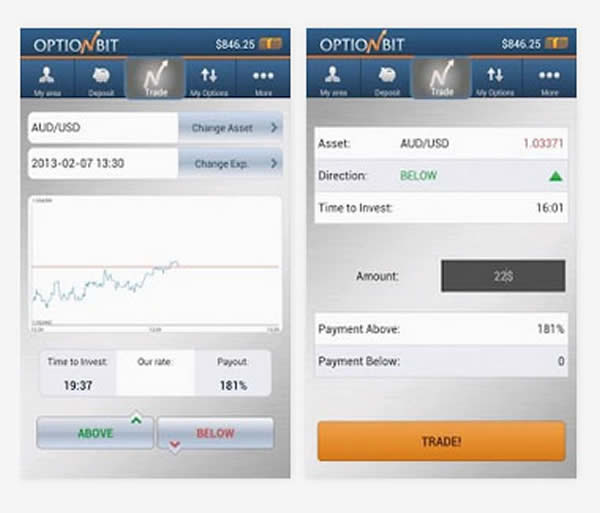 However, what sets OptionBit apart from the rest are the advanced trading tools that it puts at the disposal of traders. This include the advanced close, extend, double up and Auto-trade tools.
The AutoTrade tool re-opens winning trades thus allowing traders to plan a longer-term trading strategy. Once the first trade wins the initial investment amount is secure since the next trade that is opened, for the same asset and in the same direction, will only invest the actual return from the first winning trade.
In addition, OptionBit is the very first Options broker to have launched the Algobit platform which is an in-house technologically developed algorithm able to locate newly forming market trends and instantly signaling the trader when to enter a trade. With a proven record of 99% accuracy in trend identification, this is indeed an invaluable tool at the hands of traders.
Types of Trading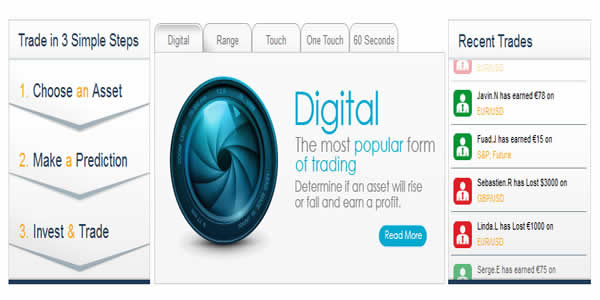 Traders opening an account with OptionBit can trade binary options through a variety of trading types. Besides the digital trading option type, which is the most typical and traditional method of trading binary options, the broker puts at the disposal of traders the one touch type of binary trading, where profits can reach a staggering 260% - 500%. Moreover, the touch/no touch type is available, which is essentially an extension of the one touch type. Furthermore, clients can choose to trade the range options trading type or even the turbo trading type, which has very fast expiry times of one, two or five minutes, thus offering instant profits to successful trades.
Asset List
OptionBit offers a fairly wide selection of assets for traders to choose from, which come under all the four major asset categories of stocks, commodities, currencies and indices. More specifically, the current tradable assets menu consists of 13 currency pairs, 39 different stocks, 13 major indices and 4 commodities. Obviously the list could benefit by a further expansion but it nevertheless offers a satisfactory variety for traders and it also allows the flexibility of dabbling in several different assets.
Account Types and Bonuses
OptionBit offers traders three different account types to choose from: the Mini, Standard and VIP accounts, each requiring a different initial deposit amount and offering a different set of perks and bonuses. Moreover, the broker also offers a Platinum account to those traders wishing to make an initial deposit of over $50.000, which comes with an exclusive array of privileges, details of which can be obtained by contacting Optionbit directly.
To obtain a Mini account one needs to deposit $250, thus becoming eligible for up to 30% welcome bonus and up to 30% loyalty bonus. To open a standard account the initial deposit required is $1000, granting the customer up to 50% as a welcome bonus and up to 75% as a loyalty bonus. Finally, VIP account holders need to deposit at least $10.000 and can get in return up to 75% welcome bonus and up to 100% loyalty bonus.
Holders of all types of accounts gain access to the various trading and educational materials available, such as an ebook, video lessons, advanced charts and webinars as well as trading alerts. Moreover they stand to receive daily market reviews can are also entitled to a certain number of free withdrawals per month. The various entitlements depend on the type of the account held and as one moves up the ladder, naturally the benefits increase. For example, VIP account holders receive the full package of video lessons, an unlimited number of one on one trading sessions and a market expert as their dedicated personal account manager.
Deposits and Withdrawals
The minimum deposit amount is $200, while the maximum transaction amount is set at $5.000. There are no other fees when making a deposit, while all customers are allowed one withdrawal per calendar month for free, with subsequent withdrawals carrying a fee of $30 per withdrawal. Moreover, it should be pointed out that for withdrawals executed via a credit card only the initial amount deposited is allowed to be withdrawn, meaning that any profits made following a credit card deposit are sent directly to the customer's bank account.
Customer Support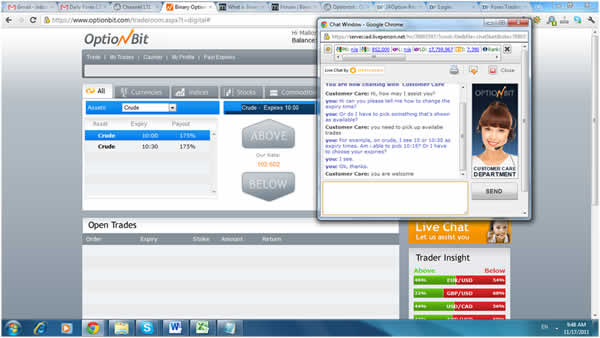 OptionBit prides itself of its high level of customer support which is always delivered in a friendly yet professional and prompt manner. Indeed, customer support is available round the clock in ten different languages, i.e. in English, French, German, Italian, Japanese, Russian, Spanish, Arabic, Portuguese and Swedish. Traders can reach support via online chat, e-mail or via phone, with telephone support being available through local numbers in six different countries. Email inquiries may be submitted using either the on-site form submission, or by directly sending an email.
Conclusion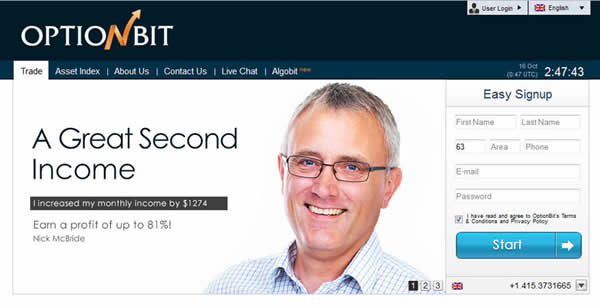 In OptionBit's logo the letter 'n' in the broker's name is an upward arrow. We find this a fitting picture that neatly describes both their expansion, development and improvement since their initial launching as a broker, as well as their constant drive and effort to remain on top of their game through implement the latest technological advancements and offering their clients innovative trading tools and solutions, thus greatly enhancing the trading experience. All these, coupled with the fact that they are a fully licensed and regulated, thus safe and reliable broker, lead us to recommend to prospective new and old binary options traders to give this broker a try.
Open Real Account Free Demo Account