If you happen to be unlucky enough not to be living on the beautiful island of Cyprus and be enjoying the abundant sunshine – Cyprus being blessed with an average of 326 sunny days per year – then you have not spent the last few weeks puzzled as many of us, wondering and trying to answer the persistent question, "Who is Neo?"
Indeed in the past month or so, the residents of Cyprus have been exposed to a rather aggressive and definitely costly marketing campaign in the form of tv teasers or ads on billboards or the local press, featuring this mysterious "Neo", who is coming in order to change everything. Presented as some kind of superhero by a young boy with a vivid imagination, or the one who makes the small local shop owner feel safe that none will ever be able to steal his money again, or even the one who helped an old, rather senile couple, who have been stashing their cash away in odd places and kept forgetting where it was, find their money and their peace of mind!
Well, after building up the excitement and enhancing the curiosity of the general public, today was the day that all was revealed in the Sunday papers. As from tomorrow, Nicosia, the capital of Cyprus will be hosting the first ever real Bitcoin infoshop in the world, which will be making Bitcoin transactions much more accessible to the Cypriot public. The flagship shop, located in a quiet urban location in Engomi, will serve as a hub from where people will be able to get information about what Bitcoin is and what its advantages are, as well as receive information and explanations about all the services that the newly founded company Neo has to offer.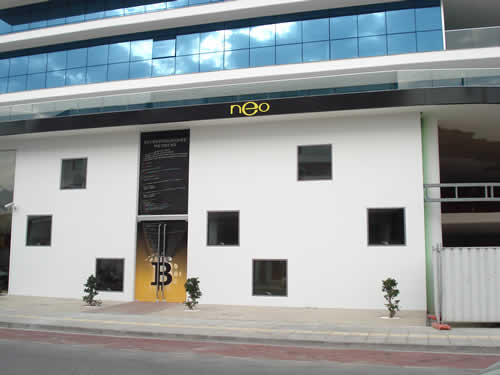 This shop is just the first step, since the company is also planning to set up Neo Bitcoin infostores in all the towns in Cyprus. Neo claims that its arrival will change the lives of Cypriots once and for all. Simultaneously to opening its first store, the company has also launched its website at www.neo-bee.com, available in both Greek and English, as well as a toll free phone number for information to prospective customers at 7777 6544.
According to the website "Neo and Bee pushes the edges of value storage and payment technology further every day, and our business is to create the infrastructure, risk mitigation and confidence so that everyone can enjoy the benefits of Bitcoin with simplicity and security, without changing your habits.
Through making this technology available to everyone, we want to be the powerful engine under your hood, driving you to explore new markets, develop the future of commerce and be in control of your cash flow, with efficiency, transparency and decreased risk."
In fact, according to the prospectus of LMB Holdings, the parent company of Neo and the Bee Payment Network, Neo will be offering Cypriot residents depository and financial services. Customers will be able to open demand deposit, savings, business, and merchant accounts.  The company points out that "though all customer deposits are held in full reserve in Bitcoin, many customers will use Europegged accounts, allowing them to interact with their money like they would with Euro deposits at any traditional bank. Accounts will also be available that offer full exposure to the Bitcoin price level. Regardless of which currency they bank in primarily, all customers can seamlessly deposit, withdraw, or transfer either Bitcoin or Euros. Neo simplifies Bitcoin usage, to enable simple, easy transfers without requiring understanding of the complex technology."
Moreover, the second newly-proposed venture Bee, is a payment processing network using EMV chip and PIN technology. "Bee offers lower transaction fees, faster settlement times, and higher security than competing payment processing services in Cyprus. Merchant funds received through the Bee network are deposited directly into a Neo business account."
The people behind these new ventures have clearly stated that one of their primary aims is to turn Cyprus into a global hub for Bitcoin acceptance and development. We feel that persuading business in Cyprus to jump on the bandwagon and start accepting Bitcoins and the Bee card for transactions in products and services will not be a very easy task, since they tend to be more conservative and traditional when it comes to money. However, we were interested to notice on their website that besides the University of Nicosia, that we were already aware of, another three companies in Cyprus have already joined in. These are Lumiere TV, which is a pay tv and internet service provider, its sister company D&M Telemarketing, which sells a variety of products, and interestingly enough So Easy Stores, which are essentially kiosks, your everyday neighbourhood convenience stores.
To be honest I don't think that it is very likely that Cypriots will be flocking to pay for cigarettes, newspapers and sweets using their newly acquired Bitcoins. However, it is true that trust in the banks and the traditional banking system in Cyprus is low and it appears that the Bitcoin promoters in Cyprus have taken things seriously and they mean business.
What is of particular interest as this story unfolds, especially for those into the financial services industry, including brokers, is the stance that the authorities in Cyprus will end up adopting against this phenomenon. Both the Central Bank and the Cyprus Securities and Exchange Commission have issued warnings against virtual currencies and in particular the Bitcoin. However, Neo CEO Danny Brewster has repeatedly underlined that "we want to operate under the regulatory framework that they deem appropriate," also pointing out that Neo & Bee would like to work out ways to regulate the Bitcoin, both by the Central Bank and CySEC, as well as to one day see it used as a trade denomination on the Cyprus Stock Exchange.
Neo & Bee are perhaps betting on the fact that through opening their info-points and raising the public's awareness will in turn create a pressure on the authorities to be more responsive to the company's call for collaboration as regards the regulation of Bitcoin in Cyprus.
Their CEO has also told local press that "Regardless of the reluctance of both the Central Bank and CySEC to regulate the businesses surrounding this new technology, Neo are still committed to establishing a clear regulatory framework for Bitcoin based businesses to operate within. We are proposing a full regulatory framework to both of these regulators and directly to the government."
His arguments seem to make sense, when he is also saying that "If people want to use Bitcoins they will find their own way to obtain them in an unregulated manner, even if Neo didn't exist. So, isn't it better for them to acquire them via a regulated market that offers some level of protection?"
It is certain that the opening of an infostore is just the first step in a long journey and it is also without doubt that the launching of these two new ventures in Cyprus will signal further developments. It will be very interesting to see how the public and businesses in Cyprus will react to all these and how in turn this will play with the competent authorities. Surely, there will be developments soon and we will be following things closely to be able to tell you all about it.