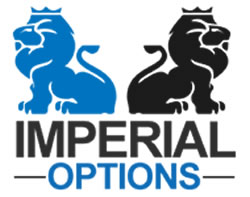 Boasting two proud regal lions as its logo and the phrase "trade in the options empire" as its slogan, Imperial Options, which has been around since 2012, is an interesting case of a broker that is aiming to establish itself and consolidate its market presence and share. The only obvious downside of this particular broker is the fact that is not – yet at least- regulated by a watchdog in a certain jurisdiction. If one can overcome this, then Imperial Options surely stands out due to its customer-centric approach, the fact that it offers numerous learning opportunities to its customers and provides a very supportive trading experience and environment. Moreover, its biggest virtue is that it is literary packed with additional features that greatly improve and enhance one's trading ventures. Let us see why:

To take advantage of our exclusive bonus, simply open an account on imperialoptions.com by clicking on the link above. Our bonus offer will be automatically acquired.
Open Real Account Free Demo Account
The platform
The trading platform used by Imperial Options is a customized version of the popular and technologically advanced platform developed by provider SpotOption, which ensures high speed execution times and also offers a huge selection of binary options types and expiry times. User-friendly, simple and contemporary, the Imperial Options platform is also available to those wishing to trade on the go, since its mobile version is available to users of all smart devices through the App Store and the Android Market. The platform also offers a plethora of trading tools and features that enhance the trading experience and activity, such as for example Close Option, Double up, Roll Over and Pro Trader. Moreover, through the social trading tool Spot Follow, users of the Imperial Options platform can follow, study and even copy the decisions and performance of other traders.
Types of trading
The available types of binary options trading is definitely one of the strongest points of Imperial Options as a broker and they become even more versatile and attractive due to the several different expiry times available ranging from just a few seconds to end of day and even longer. Offering traders the opportunity to choose the trading type which best suits their skills, preferences, budget and risk tolerance, Imperial Options offers besides the traditional high/low binary options trading as well as trading in fx and cfds, the binary options trading instrument types of pairs, sixty seconds or turbo options, one touch, ladder and long term options, especially suited to those traders using the fundamentals strategy. The lucrative profit making opportunities through the many trading types available are endless and they are further improved through the use of Imperial Options' trading signals and alerts service that is delivered via email or sms.
Asset list
The asset index available for trading on the Imperial Options platform offers a wide variety of assets to choose from, from across all the four major asset categories, namely forex currency pairs, commodities, stocks and indices. The tradable assets menu is not static and it changes and expands over time. The selection available is more than adequate and all the popular assets in all four categories are present, accompanied by other less prominent ones, which may however offer interesting trading opportunities. When combined with the multiple expiry times and trading types available, the assets index ensures that all traders, professional or novice, individuals or organizations, large or small, will be able to find a trading selection that fulfils their requirements and matches their expertise and investment profile, also offering great returns potentials and huge investment portfolio diversification opportunities.
Account types
Imperial Options has on offer four different account types for aspiring traders to choose from, each coming with a different set of perks and prerogatives, which naturally increase as the initial deposit amount that one is willing to commit increases as well. The four account types available are namely the Micro, Silver, Personal and VIP. All the account types give their holders full access to all the trading platforms and instruments, as well as to all the available tradable assets. Moreover, account holders gain access to the broker's comprehensive educational section also ensuring off trading hours assistance. Obtaining a micro accounts requires an initial deposit of 250 USD (or EUR or GBP) and could yield a welcome bonus of up to 25%. A silver account has a minimum deposit threshold of 2,500 USD and offers up to 50% as a welcome bonus, while the corresponding figures for a Personal account type are 10,000 and up to 100% respectively. Finally, those interested in a VIP account need to make an initial deposit of 50,000 and could get up to 200% as a welcome bonus. VIP accounts also give access to a dedicated account manager, one on one trading and trading alerts and market analysis on a daily basis. These perks are available to the holders of the previous account types as well, but in a more limited manner.
Deposits and Withdrawals
Banking with Imperial Options and depositing as well as withdrawing money to and from your trading account is easy, swift and secure. The minimum deposit amount is a reasonable $250 (or EUR or GBP, depending on your preferred currency choice upon opening the account) while the maximum is 5.000 when using a credit card, 10.000 through Western Union and unlimited when using a wire transfer. Moreover, there is a minimum withdrawal limit of $100. The accepted payment / deposit methods include most major debit and or credit cards, such as VISA, MASTERCARD, Carte Bleue, or MAESTRO, as well as wire transfers, electronic money wallet services such as WebMoney and Western Union. All transactions are performed in a safe and secure manner and environment.
Customer Support
Besides English the Imperial Options website is currently also available in Dutch, French, Russian, Arabic, German and Spanish rendering it truly multilingual and meaning that most interested traders will be able to trade in their own native language with more ease and confidence. Customer support is offered on a 24/7 basis and the dedicated team can be contacted either via live chat online, through email or on the phone to one of the ten local numbers currently available in the UK, Australia, New Zealand, Sweden, Norway, Canada, Israel, Austria, Spain and South Africa. The people at Imperial Options strive to provide their customers with the best educational materials possible in order to assist them and enhance their trading experience. This is why they offer a free Binary ebook for every sign up, while also making available to traders an innovative two-tier education centre, the first tier containing the essential and basic knowledge to trade, and the second hosting the more advanced, detailed and extensive type of information on different aspects of binary options trading. Both the tiers make up a very comprehensive and information packed education center, which contains a multitude of videos, eBooks and interactive courses for both beginners and advanced traders, as well as neatly explained trading strategies and in-depth specialized courses.
Conclusion
Imperial Options claims that it aims to provide its customers a trading platform with the highest level of support, a system that can be utilized by both retail and professional traders all over the world. Indeed, a supportive environment, especially in terms of customer support, ease of platform use and access to valuable, informative, training materials is the most characteristic and promising feature of this broker, which may not be formally regulated just yet, but could well be a very attractive and rewarding environment for your journey into the world of online retail binary options trading.
Open Real Account Free Demo Account