Goptions is an online binary options brokerage, which has been around for quite some time. Using the SpotOption platform Goptions, despite some weaknesses, poses itself as yet another attractive alternative for all those looking for an one-stop-shop, online broker through which to invest and attempt to maximise their returns, offering clients a competitive selection of tradable assets to choose from, along with various platform options and useful tools through which trading can become more successful and lucrative.
Moreover, Goptions offers various bonuses and promotions which customers can take advantage of in order to increase their chances of achieving higher yields.
To take advantage of our exclusive bonus, simply open an account on Goptions by clicking on the link below. Our bonus offer will be automatically acquired.
Open Real Account Free Demo Account
The Assets

Clients who are thinking of trading online via Goptions can choose to invest in either commodities, currencies, indices or stocks. Currently, the tradable assets on the Goptions platform consist of 15 different currency pairs, including all the popular combinations but also some other less common ones. The 7 tradable commodities, currently offered by Goptions are gold, platinum, silver, sweet crude oil, coffee, sugar and wheat. Moreover, the company puts at the disposal of potential investors an impressive array of 22 indices from all over the globe and an equally impressive list of 20 stocks all from highly reputable international firms and from various fields of economic activity, including the likes of Tesco, Coca Cola, Nike, Gazprom and Apple.
The Platforms and Account options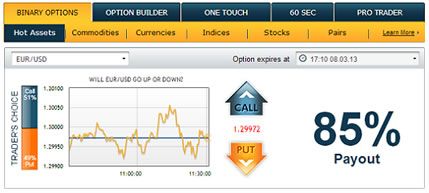 Goptions offers all the different available trading platform options from the traditional call/put option which is simple and best suited for inexperienced traders, to the option builder options type, the 60 Seconds Option, where everything is over in a minute, and the One Touch option. The first three platforms can offer payouts, for trades that end in the money, in the range of 65% and 85%, while the much riskier One Touch option could bring in 400% to 500%. Definitely much more lucrative such an option if one is willing to take the associated considerably high risk.
Goptions Web offers five different account types for customers to choose from each coming with a different bonus percentage, different perks and added features for improved yield as once moves up the ladder. These account types are the micro, the mini, the standard, the gold and the VIP platinum. Interestingly enough in this latter category the bonus can up to 100% of your initial deposit, but this deposit must be more than $10,000 .
Trading Tools and Customer Support
Goptions allows mobile phone users to trade through a mobile trading application, which is suitable for all kinds of smartphones, including iphones, blackberries and devices running on android. Moreover, other trading tools are available to clients depending on the account type they opt to have. However, all customers at Goptions can have access to the online educational centre, which consists of materials that aim at helping traders understand the binary options market better and achieve higher gains.  These materials come in the form of a free Trade Manual, an online video tutorial as well as a binary options e-book.
Goptions offers customers a polite, friendly and prompt Live Support service, while clients can also request assistance through using the online inquiry form through the Contact Us link on the website. Also according to the account type they hold, customers can benefit from improvement sessions with one of Goptions's brokers.
Conclusion
Goptions is currently available only in English, French and Spanish and this is an obvious weakness. Furthermore, the analyst reviews offered are outdated and could use a serious revamping. Other than that, Goptions provides a reliable, pretty straightforward and user-friendly trading environment, offering a good choice of tradable assets, various different account types, tailor- made for the needs of both newcomers to the trading game as well as for the most experienced traders and useful tools that enhance the trading experience. Moreover, they have a friendly and responsive customer support and can boast of having a very fast withdrawal processing time (same day, provided it's a working day and you submit sufficient proof of identification). The recent partnership of Goptions with the independent signal provider SignalPush is an innovative and bold move that could revolutionize the trading experience via automation. However, this has stirred up some controversy and since the jury is still out on the issue, we will refrain from recommending it. However, we should give both Goptions and this new automated trading feature they are promoting the time and chance to prove themselves right and their critics wrong.
Open Real Account Free Demo Account